Parcel Sorter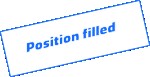 1 year ago

England / West Midlands / Birmingham
Full-time job
Monday to Friday
7 am start 16:30 pm Monday / 7:30am 16:30 pm Tuesday - Friday
Your job duties will be to :
Unload trailers.
Loading vans.
Sorting into postal code areas.
Fast-paced
Use of handheld scanner.
Benefits of this jobs:
Free transport to and from site
Online payslips
Holiday entitlement
Free onsite parking
Ongoing assignments
Store Discounts
Refer a friend scheme
You will be required to have a DBS check.